Canada's Premier Pet Supply Wholesaler, serving
the Canadian Pet Specialty community since 1986
Home

>

Spectrum Brands Nature's Miracle All Purpose Cleaner 128oz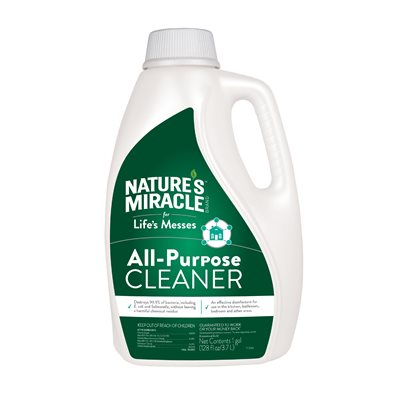 Press and move to zoom
Mouse over image to zoom

Spectrum Brands Nature's Miracle All Purpose Cleaner 128oz
Product code: 226-98241
UPC code:018065982414
Product Information:
Destroys 99.9% of bacteria, including E. coli and Salmonella, without leaving a harmful chemical residue
An effective disinfectant for use in the kitchen, bathroom, bedroom and other areas
Anti-bacterial formula
Great for cleaning all around the home
Use Sites
Homes, basements, bathrooms, bedrooms, dens, dining rooms, kitchens, laundry rooms, garbage storage areas, living rooms, mudrooms, nurseries, playrooms, storage rooms, upholstery, curtains, pet areas, crates, pet carriers, pet bedding, pet toys, litter boxes
Use Surfaces
Sinks, faucets, walls, cabinets, cupboards, door handles, doorknobs, drawer pulls, railings, light ?xtures, shelves, metal, stainless steel, linoleum, behind and under counters, hard, non-porous ?oors, kitchen surfaces, cabinets, tabletops, appliance exteriors, restroom surfaces, vanity tops, bathroom ?xtures, bathtubs, showers, shower curtains, exterior toilet surfaces, garbage cans, diaper pails, cribs, play structures, furniture, fabric, upholstery, window treatments, bedding, blankets, draperies, carpets, hampers, pet areas or surfaces, stuffed animals
Directions
It is a violation of Federal law to use this product in a manner inconsistent with its labeling. Test fabric for colorfastness. Contains a dilute oxidizing agent. Do not mix with vinegar or acidic cleaners.
Pre-Cleaning Instructions: Remove gross ?lth and heavy soil by cleaning. Spray product straight onto soils, scrub and wipe clean with a dry paper towel or cloth.
To Re?ll:
Remove trigger sprayer from empty bottle.
Unscrew cap on re?ll and pour contents directly into open bottle.
Replace trigger sprayer and use as you normally would.
CLEANING & GENERAL CLAIMS:
To Clean Surfaces, Floors, Dog Crates & Litter Boxes: Spray soiled area, then wipe clean. For spot cleaning, spray and wipe clean with damp sponge, mop or cloth. To Spot Clean Carpet: Spray on soiled area until wet. Gently blot area with a clean, damp, color safe cloth. Repeat as needed for stubborn stains. Let air dry. To Use as a Pre-Cleaner on Carpet: Spray a light, even coating over the soiled area until wet.
DEODORIZATION:
To Deodorize: Product works by oxidation, not by masking of odors. Eliminates odors caused by ?re smoke, tobacco smoke, musty odors, stale-cooking odors. Simply spray or wipe on full strength and let air dry to provide long-lasting residual deodorizing action. Product must come into contact with the cause of the odor to be effective. For pet urine stains in carpet, blot urine as dry as possible then saturate stain with product through carpet pad. To Deodorize or Freshen Carpet: Spray until slightly damp to eliminate odors. Product must come in contact with the cause of the odor to be effective.
MILDEWSTAT: To Inhibit Mold or Mildew on Floors, Walls, Ceilings & Fabric: Remove as much surface dirt, mold, or mildew as possible by cleaning. Then spray on product from a distance of 12 inches until visibly wet and let air dry; the surface must be completely wet with product for 10 minutes.
MILDEWSTAT: 10 MINUTE CONTACT TIME Aspergillus niger (ATCC 6275)
SANITIZATION:
To Sanitize Carpet: For synthetic carpet ?bers such as nylon, ole?n or polypropylene – not intended for use on wool carpets. Test for colorfastness in an inconspicuous area. Carpet should be clean or free of excessive soil before applying. Use full strength. Apply at a rate of 2.5 ? oz per sq ft. Product must come into contact with contaminate to work. Allow to dwell for 10 minutes. Do not rinse. Use an extraction wand and dry stroke carpet to remove excess moisture. Carpet can air dry or fans may be used if carpet needs to dry faster. To Sanitize Soft Surfaces: Spray until fabric is wet. DO NOT SATURATE. Let stand for 5 minutes. Allow to air dry. Reapply as necessary. Heavy soil must be removed prior to sanitizing.
CARPET SANITIZATION: 10 MINUTE CONTACT TIME Enterobacter aerogenes (ATCC 13048), Staphylococcus aureus (ATCC 6538)
TO SANITIZE SOFT SURFACES: 5 MINUTE CONTACT TIME Enterobacter aerogenes (ATCC 13048), Staphylococcus aureus (ATCC 6538)
DISINFECTION:
To Disinfect Hard Non-porous Surfaces: For disinfecting pre-cleaned, hard, non-porous surfaces such as glass, plastic, painted wood, laminate, chrome, stainless steel, polyurethane-coated hardwood ?oors, glazed ceramic tile, sealed concrete & linoleum ?oors. Types of items include: Exterior of appliances, bed frames, cabinet handles, wheelchairs, child car seats, counters, cribs, doorknobs, tables, tubs, exterior toilet surfaces, faucet handles, handrails, jungle gyms, keyboards, light switch covers, patio furniture, showers, sinks, stovetops, telephones, toys, walls, waste containers. Apply product undiluted full strength to pre-cleaned, hard, non-porous surfaces, wetting thoroughly with spray, sponge or mop. Allow surfaces to remain wet for 5 minutes for virus inactivation – 10 minutes for bacteria disinfection.
DISINFECTION BACTERIA: 10 MINUTE CONTACT TIME Pseudomonas aeruginosa (ATCC 15442), Acinetobacter baumannii (ATCC 19606), Staphylococcus aureus MRSA (ATCC 33592), Listeria monocytogenes (ATCC 15313), Legionella pneumophila (ATCC 33153), Salmonella enterica (ATCC 10708), Staphylococcus aureus (ATCC 6538), Klebsiella pneumoniae (NDM-1) (ATCC BAA-2146), Escherichia coli (ATCC 11229), Bordetella bronchiseptica (ATCC 10580)
DISINFECTION VIRUS: 5 MINUTE CONTACT TIME Rotavirus, Strain WA, Norovirus Feline Calicivirus, Murine Norovirus (MNV-1), Swine In?uenza (H1N1), Respiratory Syncytial Virus (ATCC VR-26), In?uenza B Virus (Strain B/Taiwan/2/62) (ATCC VR-1735), Hepatitis A Virus (ATCC VR-1541), Hantavirus (Prospect Hill Virus) University of Ontario, Canine Distemper Virus, Strain Snyder Hill (ATCC VR)
DISINFECTION VIRUS: 10 MINUTE CONTACT TIME Adenovirus 1, Strain Adenoid 71 (ATCC VR-1), Canine Parvovirus, Strain Cornell-780916 (ATCC VR-2016)
Ingredients
ACTIVE INGREDIENTS:
Chlorine Dioxide . . . . . . . . . . . . . . . . . . . . . . . . . . . . . . . . . . . . . . . . . . . . . . . . 0.200%
Alkyl (60% C14, 30% C16, 5% C12, 5% C18)
Dimethyl Benzyl Ammonium Chloride . . . . . . . . . . . . . . . . . . . . . . . . . . . . . 0.125%
Alkyl (68% C12, 32% C14) Dimethyl Ethylbenzyl Ammonium Chloride . . 0.125%
First Aid
If in eyes: Hold eye open and rinse slowly with water 15-20 minutes. Remove contact lenses after ?rst 5 minutes and continue rinsing. Call a Poison Control Center or doctor for treatment advice. Have product container or label with you when calling a Poison Control Center or doctor, or going for treatment.
Storage and Disposal
Store in original closed container in a cool, dry place away from heat and open ?ame. Do not allow product to become overheated in storage. Avoid prolonged storage temperature above 90°F. This may cause increased degradation of the product, which will decrease product effectiveness. Re?ll only with this product. Do not reuse or re?ll this container unless the directions for use allow a different concentrated product to be diluted in the container.
Container Disposal: Rinse and offer empty container for recycling. If recycling is not available, discard container in trash. Wastes resulting from the use of this product may be disposed of on site or at an approved waste disposal facility. Discard excess or used product solution in drain with running water.
Precautionary Statements
KEEP OUT OF REACH OF CHILDREN
Notice
Seller expressly warrants that the product conforms to its chemical description. There are no other warranties associated with this product.
Unit Height :

7.625

Unit Length :

5.098

Unit Width :

12.25

Unit Weight :

9.06