Canada's Premier Pet Supply Wholesaler, serving
the Canadian Pet Specialty community since 1986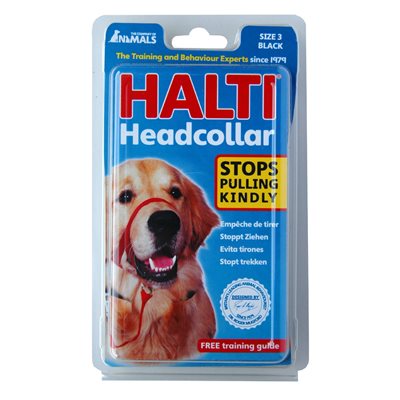 Press and move to zoom
Mouse over image to zoom

Head Halti Black #3
Product code: BD8623
UPC code:5017245132002
Product Information:
The patented Halti headcollar, designed by Dr. Roger Mugford, gives you total control when walking your dog.
Calms boisterous dogs.
Simplifies training.
Restrains biters.
Reduces fears.
Reforms fighters.
Assists with restraining dog during veterinarian or grooming visits.
Calms hysterical car travelers.
Halti stops pulling because if you guide a dog's head, the body will surely follow.
Thesoft nylon collar fits comfortably around its face without restrictingthe mouth. If the dog tries to pull or lunge forward, Halti transfersthe forward motion into turning the head sideways. This immediatelydiscourages the activity without any undue stress to the animal.
Perfect for leash control training and as a permanent training collar for large or active dogs.
Washable nylon webbing with strong metal loops and durable plastic buckle.

Fitting:
Afghan Hound
Airedale
Alaskan Malamute
American Staffordshire
Basset Hound
Belgian Shepherd
Boxer
Briard
Bull Terrier
Chesapeake Bay Retriever
Chow Chow
Dalmatian
Dobermann
Elkhound
English Setter
Foxhound
German Shepherd
Golden Retriever
Greyhound
Irish Setter
Irish Water Spaniel
Japanese Akita
Labrador Retriever
Lurcher
Maremma Sheepdog
Munsterlander
Old English Sheepdog
Pit Bull
Pointers
Poodle Standard
Ridgeback
Rough Collie
Siberian Husky
Weimaraner
Availability: Out of Stock