Principal grossiste d'articles pour animaux de compagnie au Canada, desservant la communauté des détaillants canadiens de produits spécialisés pour animaux depuis 1986
sWheat Scoop Litière Agglomérante pour Chats à Base de Blé & Maïs 25LB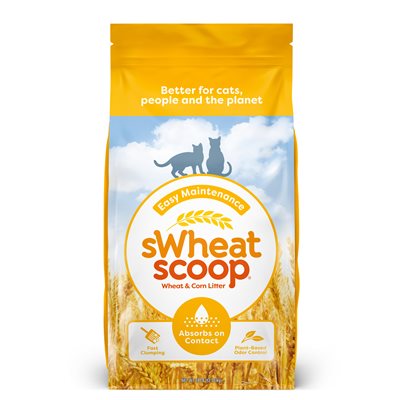 Appuyer et déplacer pour zoomer
Passer en survol sur l'image pour zoomer

sWheat Scoop Litière Agglomérante pour Chats à Base de Blé & Maïs 25LB
Code de produit : 523-60625
Code UPC :787748606250
Product Information:
NATURAL LITTER wheat-based, contains no harmful ingredients, naturally neutralizes odors

PROPRIETARY DUAL-STARCH FORMULA stronger clumps and absorption make for easier clean up, reduced tracking and dust

BIODEGRADABLE + NO DYES/PERFUMES made from renewable resources so everything can go back into the ground

FLUSHABLE litter has the ability to be flushed

UNSCENTED

sWheat Scoop wheat-corn blend clumping litter is a natural groundbreaking formula designed for your cat-loving household, no matter how many cats are in your family. Our proprietary technology harnesses the concentrated power of wheat and the absorption of corn to neutralize urine and ammonia odors, while making clean up easy. All that natural odor-fighting power without the added dyes, perfumes, dust or harmful substances typically found in clay litters.

Ingredients: Wheat, corn and other grains
Directions:
1. Fill clean litter box with 3 inches of litter
2. Scoop twice daily
3. Refill to maintain a level of 3 inches
4. Clean litter box
For optimal product performance, keep unused litter in a sealed bag or container and store in a cool, dry place.
Switching Your Cat to sWheat Scoop is Easy:
1. Fill your empty litter box with 3 inches of sWheat Scoop
2. Pour 1 inch of your current brand on top
Repeat the process when you change the litter, but only add 1/2 inch of the other brand.
Hauteur :

12.4"

Longueur :

25"

Largeur :

6.4"

Poids :

25 LBS
Disponibilité : En inventaire